Podcast #13: Youth Work and Power
In this episode of the Ultimate Youth Worker Podcast Aaron speaks with Ben Lohmeyer from Tabor College of Higher Education about his research into youth work and power.
Ben Lohmeyer is a critical youth sociologist and youth worker. He is a PhD candidate at Flinders University and the Program Coordinator of the Bachelor of Applied Social Sciences (Youth Work) at Tabor. Ben's research interests include: youth, governance, violence (personal, structural and neoliberal) and youth work practice.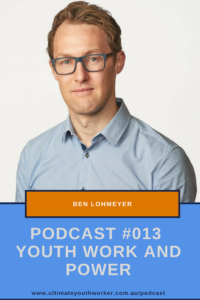 Ben has worked across a range of youth work settings including alternative education, alternative accommodation and peace building. He has experience facilitating restorative justice processes, designing and facilitating peace building programs as well as grant and policy writing. Ben has is currently completing his PhD in Sociology at Flinders University focussing on youth and neoliberal violence.
In todays episode Aaron and Ben speak about youth work and power. How do youth workers recognise power issues? How do youth workers identify and manage power inequalities in the professional relationship? What can youth workers do when power is imposed by neoliberal structures? How can youth workers show genuine concern in the face of power imbalances? Youth workers must wrestle with the concept of power as it is a significant issue for the young people we serve and in doing youth work with integrity.
Today's resources
Here are links to some of Ben's latest articles that have bearing on todays podcast.
Thanks for Listening!
To share your thoughts:
To help out the show:
Leave an honest review on iTunes. Your ratings and reviews really help and I read each one.
Subscribe on iTunes.