Youth Work Ethics
In this episode of the Ultimate Youth Worker Podcast 'Youth Work Ethics' Aaron speaks with Professor Howard Sercombe about his over two decade looking at and developing Youth Work Ethics documents.
Howard Sercombe is a leading youth work academic and practitioner. He has been a pioneer internationally in thinking about professional ethics for youth workers, and was involved in drafting codes of ethics for youth workers across Australia and in Scotland, England, South Africa, Zambia and New Zealand. His book, Youth Work Ethics has been widely influential. He has also published widely on the sociology of youth, including the construction of youth in the media and the emerging influence of neuroscience. He and his partner, broadcaster Helen Wolfenden, have just relocated to Sydney after ten years in Glasgow. He currently holds an honorary Professorship in Education with the University of Glasgow, and is doing primary parenting for Oscar, 4 and Timothy, nearly 2.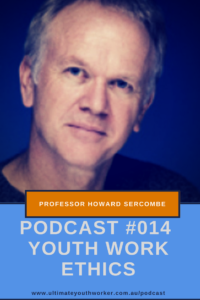 In todays episode Aaron and Howard speak about the development of the Fairbridge code of ethics used by many youth work associations worldwide. How did the code come in to being? Why do youth workers need to think about ethics? How can youth workers think ethically in their day to day practice?
Professional youth workers must think about the concept of ethical practice every day. Codes of Ethics are a significant way for the young people we serve to know what we can and cannot do. They also give youth workers a great framework for ethical decision making, professional supervision and reflective practice.
You can find more information about Howard on LinkedIn.
Today's resources
Here are links to some of Howard's latest articles that have bearing on todays podcast.
Thanks for Listening!
To share your thoughts:
To help out the show:
Leave an honest review on iTunes. Your ratings and reviews really help and I read each one.
Subscribe on iTunes.
Don't forget to buy a copy of Youth Work Ethics