Podcast #012: Youth Drug and Alcohol
In this episode of the Ultimate Youth Worker Podcast Aaron speaks with Dr. Kat Daley from RMIT University about her research into youth drug and alcohol abuse.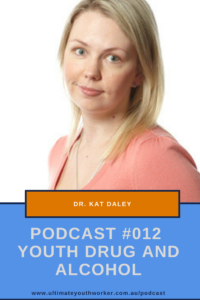 Dr Kat Daley is a Lecturer in the School of Global, Urban and Social Studies. She researches issues of marginalised youth including, substance abuse, self-injury, homelessness, gender and sexual abuse. Her book, 'Youth and Substance Abuse', was published in 2017. Kathryn teaches courses in social research and policy. Prior to academia, she worked in youth alcohol and other drug services.
In todays episode Aaron and Kat speak about why young people tend towards use that is problematic and long term. They look at the particular patterns in young women with problematic drug use that arose from Kat's research, the key issues surrounding problematic use in young men and how these two groups approach dealing with their substance use problems. It is through such great research that youth workers gain insight into our clients.
A special thanks to Kat for taking time out of her very busy schedule to be our first academic on the cast. A core part of our mission with the Ultimate Youth Worker Podcast is to make academic work more accessible to the masses. If you enjoy this cast don't forget to leave a comment in the section below and share the link with your colleagues.

Today's resources