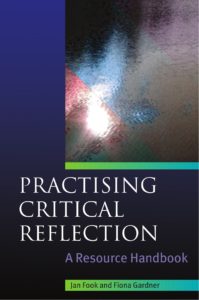 In this episode of the Ultimate Youth Worker Podcast 'Practising Critical Reflection' Aaron speaks with us about the importance of critical reflection and the model put forward by Jan Fook and Fiona Gardner.
This episode explains the three part process for practising critical reflection. This multi-disciplinary model is used across the human services sector world wide and is one that youth workers should be familiar with.
We hear every day that youth workers are feeling a sense of powerlessness, that they fear risk and the consequences of risk, and that they are faced by increased complexity. We want to be the best, but we feel overwhelmed by the job.
Critical reflection is spoken about extensively in youth work education courses however when youth workers enter the workforce we hear that there is no time for it, there are no structures in place to do it and there is minimal if any support from management to start running it. For a profession that quite literally deals with life and death critical reflection is a must for all youth workers.
You want to provide the best service to your young people, you want to have a long and successful career in youth work, you do not want to be burnt out by the job, then begin to implement this model into your practice. If you do, you will be leaps and bounds ahead of the average youth worker.
Today's resources
Thanks for Listening!
To share your thoughts:
To help out the show:
Leave an honest review on iTunes. Your ratings and reviews really help and I read each one.
Subscribe on iTunes.