In this episode of the Ultimate Youth Worker Podcast 'Raise the age' Aaron speaks with Jessica Sanders from Jesuit Social Services 'Worth a Second Chance' project about how we can understand the legal issue of the age of criminal responsibility and how we might support the campaign to raise it from 10 years of age.
---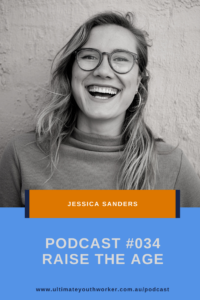 Jess is an author, advocate and social worker from Melbourne, Australia. She is incredibly passionate about social justice and supporting young people to be their best selves. Jess has supported Aboriginal women and children fleeing family violence. Climbed Mt Kilimanjaro in alliance with African Women fighting for their rights to land and provided workshops to children teaching the importance of consent and respect for self and others. Today Jess manages a youth justice campaign that elevates the stories of young people in the justice system and advocates to create a justice system that uses a therapeutic approach as opposed to a punitive one.
---
Raise the age
Everyone knows that children do best when they are supported, nurtured and loved. But across Australia, children as young as 10 can be arrested by police, charged with an offence, hauled before a court and locked away in a prison. It's time for the federal, state and territory governments to do what's right and change the laws to raise the age, so children aged 10 to 13 years are not sent to prison. Children belong in classrooms and playgrounds, not in handcuffs, courtrooms or prison cells.
Medical experts say that children's brains are still developing, especially the parts that regulate judgement, decision-making and impulse control. This means that kids cannot foresee the consequences of any action and cannot fully understand the criminal nature of their behaviour. The UN Committee on the Rights of the Child has called on countries to raise the age to at least 14 years old. China, Russia, Germany, Spain, Sierra Leone, Azerbaijan, Cambodia and Rwanda have taken this step and we must do the same for Australian kids.
In just one year across Australia close to 600 children aged 10 to 13 years were locked up and thousands more were hauled through the criminal legal system. Aboriginal and Torres Strait Islander children are disproportionately impacted by these laws and pushed into prison cells at even higher rates, accounting for 65 per cent of these younger children in prisons. There has been a chorus of calls both nationally and internationally from Aboriginal and Torres Strait Islander organisations, expert United Nations bodies, human rights organisations, medical and legal bodies, and academics for Australia to raise the minimum age of criminal responsibility.
Children need to be loved and supported so they can reach their full potential. Not locked up.
Today's resources
Here are links to some articles and training that have bearing on todays podcast.
Thanks for Listening!
To share your thoughts:
Share this cast with a friend or colleague.
Leave a note in the comment section below.
To help out the show:
Leave an honest review on iTunes. Your ratings and reviews really help the podcast and I read each one.
Subscribe on iTunes.
Before you go… Sign up to our newsletter