Non-Suicidal Self Injury (Part 2)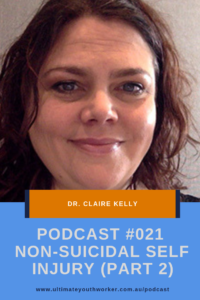 In this episode of the Ultimate Youth Worker Podcast 'Non-Suicidal Self Injury Part Two' Aaron continues to speaks with Dr. Claire Kelly about how we as youth workers can support young people experiencing Non-Suicidal Self Injury.
Dr Claire Kelly is the Director of Curriculum at MHFA Australia and an Honorary Fellow at Deakin University. Claire has been involved with MHFA since 2003, when she first became an instructor while completing her Doctorate at the Centre for Mental Health Research at the Australian National University in Canberra, where the program was first developed.
Prior to her current position, Claire was the Youth MHFA Programs Manager for 10 years and also worked on the MHFA Guidelines used to develop Edition 2 of MHFA and YMHFA. Claire's PhD thesis was written on the mental health literacy of Australian adolescents. Her main passion is the mental health of young people and minimising the impacts that mental health problems can have on development, educational outcomes and long-term functioning. Claire has suffered episodes of depression and anxiety since adolescence, which has been a driver for this work.
In todays episode (Part Two of Two) Aaron and Claire speak about the MHFA guidelines for non-Suicidal Self Injury developed by Mental health First Aid Australia after their 'Delphi study' into this area.
Professional youth workers understand that there are many young people who are hurting so bad that they self injure to deal with the turmoil. Unfortunately, not all professional youth workers know how to provide the support these young people need. Todays podcast begins to give us the tools to help the hurt and keep our young people safe.
You can find more information about Claire on LinkedIn.
Today's resources
Here are links to some articles that have bearing on todays podcast.
Thanks for Listening!
To share your thoughts:
Share this cast with a friend or colleague.
Leave a note in the comment section below.
To help out the show:
Leave an honest review on iTunes. Your ratings and reviews really help and I read each one.
Subscribe on iTunes.