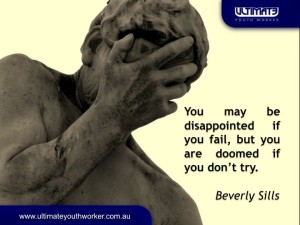 Many of my clients over the years have been doomed by inaction. In many cases it has not been that they lack ability to continue education, stay out of jail, develop social relationships etc. It is that they lacked the self esteem to even try. They had heard for so long how useless they are that eventually they believed it. When you believe something so negative about yourself you don't even try… especially if there is even the slightest chance of failure.
I have also seen this method at use by many youth workers. In their work they fear failure so much they don't event try with some clients. With their clients they look at the initial referral and see the too hard basket. They see clients that no one else has made a difference to. They see the difficult path ahead and it is too much. The way to save time, effort and disappointment is to not try at all.
When it comes to career they don't want to be disappointed there either. They have completed some level of qualification and struggled through and now are scared for life. Any more study seems like a recipe for failure. They don't do professional development planning. They don't look at the future with excitement but bitter disappointment. Failure seems like the only way forward so they don't even try.
When we look to the future and see difficulties and troubles it is only natural to shy away. Fear is a natural state of mind. But, if we let that fear rule us and dominate our thinking it leads to inaction. If we do not act we are doomed to fail before we even start. Don't let fear of failure hold you back. You will be disappointed if you do.