Training for the future
Well the world turns and we are still kicking. Funding cuts hurt us as an organisation as you know. We decided that that was not ideal. We rely on fee for service work to keep going. We have most often focused on supervision sessions to meet our funding needs. Occasionally we would run a seminar or do some training but it was limited. Over the past few months we have invested into our own training and have decided that we will focus on providing training to youth workers for a little while.
Between now and the end of 2016 we will run four specific training programs:
Youth Mental Health First Aid
Introduction to Drug and Alcohol
Mandatory Reporting and Duty of Care
Intentional Self Care for Career Longevity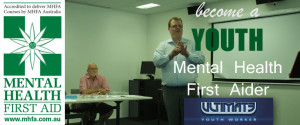 This is a new venture for us to undertake however we were very aware of the poor training that was available in the sector. We believe that if dedicated youth workers are paying good money they should get exceptional training. Our staff have been trained by Mental Health First Aid Australia to deliver the world renowned Youth Mental Health First Aid course. Two days of dedicated training for supporting young people experiencing mental health issues.
Our staff have also created three exceptional courses and seminars to support youth workers specifically. Introduction to Drug and Alcohol is a two day course design to help youth workers support young people who are experimenting with or abusing substances. Using best practice and the most recent data this course is designed by our Executive Director a former youth rehabilitation facility manager. Mandatory Reporting and Duty of Care is a half day seminar which supports youth workers to know their responsibilities under new legislation in Victoria. With public scrutiny at an all time high it is our responsibility to know our responsibilities for protecting young people to the highest standards. Intentional Self-Care for Career Longevity is a one day course which provides participants with the skills and knowledge to develop a self care plan and maintain their own self care and career development.
We will run these courses through a partnership with Eastern College Australia at their training facility in Mulgrave. We can also come to you and run any or all of these courses in your workplace.
To find out more about these courses or to register to attend click on the events tab above.
 If your in Melbourne download our Professional Development Calendar and put it up at work!!!