Ultimate Youth Worker Blog
Some of the most brilliant academics and frontline practitioners in youth work sharing their practice wisdom with you. Ideas about the future, latest research and a few tips to help you do the best job possible. Whats not to like about this blog!
Read our latest post
Ultimate Youth Worker Podcast
The Ultimate Youth Worker Podcast is a weekly audio series focused on helping youth work professionals become more effective in their youth work practice. Each week we discuss specific knowledge and skills to help youth workers develop the best possible practice.
Subscribe and listen here
Ultimate Youth Worker Videos
Whether you have come here looking for conference presentations, training videos, reviews or news... Welcome! We know how hard it is to find good quality training videos, so we have them all in one spot. It is our hope that you find what your looking for here.
Watch videos here
Youth workers... "create a kind of space within which options, alternatives, and different ways to be can emerge".
Professor Howard Sercombe, University of Strathclyde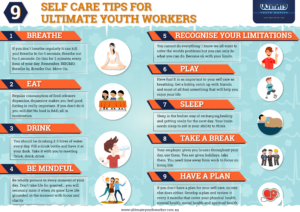 Get your self care infographic
Free JPEG right to your email
Get our top "9 self care tips for Ultimate Youth Workers" infographic. Save it, Print it out and stick it to your desk. Use the tips wisely and you will begin to develop great self care skills.