In this episode of the Ultimate Youth Worker Podcast 'Cultural Intelligence PART 1' Aaron speaks with Gregg Morris from Mahana Culture about how we can begin to gain some Cultural Intelligence. As youth workers we have a developing Intelligence or IQ eg. theory that informs our youth work practice. We have good Emotional Intelligence which lets us understand our young peoples feelings and how to respond to them appropriately. Yet we do not spend enough time thinking about Cultural Intelligence. It is extremely important for youth workers to assess the impact of our own cultural values, our cultural lens and the ethnocentrism which is at large in youth work. Today Gregg helps us to begin understanding our Cultural Tale.
---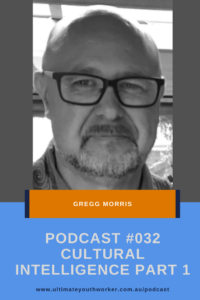 Gregg Morris has worked as an educator, youth worker, lecturer and community development practitioner with a broad range of vulnerable community groups in New Zealand and Australia, for more than twenty years. In his role as chief cultural intelligence researcher, training facilitator and cultural supervisor at Mahana, Gregg's passion for cultural justice enables him to assist others to explore their own cultural tale, as well as support organisations to adopt a culturally responsive lens. In recent times, he has come to appreciate how a person's cultural resilience can strengthen their sense of wellbeing.
Cultural Dignity
The basis of good Cultural Intelligence Gregg tells us is the ideology of dignity. At our very least and poorest we know, or should know, we are worthy of honour and respect. Cultures, religions, and social movements the world over, uphold the central notion of dignity, from the sacred potential of childbirth, to the reverence of age, and the mourning associated with death. We thrive in the presence of dignity, and falter in its absence.
As civilisation continues to advance, and our knowledge of other cultures grows, the world around us shrinks. Dignity is an unalienable birthright, a gift we universally celebrate. Dignity is the moral foundation on which we as human beings survive, live, and thrive. Only aberrant cultures like Nazism deny it. Dignity and courage in the end defeat them.
But for all our vigilance, indignity is never far away. It begins with comparisons and judgements that we as humans are too often unable to resist. Our unconscious wants to believe that one culture — usually ours — is superior to another — usually theirs. These judgements lie at the heart of all the isms: racism, sexism, ageism, and many more, all parcelled together into a box that we might term otherism.
To preserve our cultural dignity and to become more Culturally Intelligent, we need to understand other cultures, not just our own. That understanding has to rest on the unshakeable belief that every human is intrinsically worthy and valuable. Only then can we begin to grasp our own biases and blockages, and see them as the impediments that obstruct otherwise rewarding human relationships. This is central to our ability to engage respectfully with young people.
As youth workers our work is based on the ideology of human rights which are guided by the idea that every human has dignity and is worthy of that dignity being given to them. We often work with young people who have had their dignity harmed or totally disregarded. One way we can help to restore it is to be Culturally Intelligent.
Today's resources
Here are links to some articles and training that have bearing on todays podcast.
Mahana Culture (Check out the Mahana website for training and articles around Cultural Intelligence)
If you want to explore these ideas personally we can help through the Ultimate Supervision Service
Thanks for Listening!
To share your thoughts:
Share this cast with a friend or colleague.
Leave a note in the comment section below.
To help out the show:
Leave an honest review on iTunes. Your ratings and reviews really help the podcast and I read each one.
Subscribe on iTunes.
Before you go… Sign up to our newsletter