Faith and identity
In this episode of the Ultimate Youth Worker Podcast 'Faith and identity' Aaron speaks with Dr. Julie Morsillo about her work focussing on youth identity development and what impact faith has on this.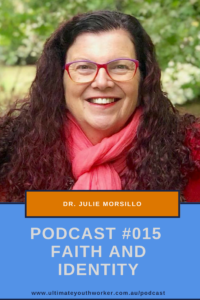 Julie grew up in Sydney, spent a year in Papua New Guinea with her parents where she was an assistant primary school teacher and piano teacher. She went to the Bible College of South Australia in Victor Harbour. Then moving to Melbourne Julie has been involved in church leadership, a foster parent and cottage parent, she worked for the North-West One Stop Welfare Centre, Victoria Equal Opportunity Commission, Victorian Public Service Commissioner, International Commission of Jurists, International Red Cross and Whitley Theological College. Julie has also been an adjunct lecturer in psychology and community development at Victoria University, the counselling co-ordinator at the Asylum Seeker Resource Centre, researcher in the Public Interest team at Australian Psychological Society (APS) and has had her own private practice as a counselling psychologist and supervisor of provisional psychologists.
---
If you are wondering how to best implement what you hear on the podcast we think getting supervision is one of the best ways. Having the opportunity to critically reflect is the best tool for career longevity we know of. If you don't currently have a supervisor who looks to grow you as a person and as a professional then its time to get an external supervisor. We can help with that!!!
[button_1 text="Get%20Supervision%20Now" text_size="32″ text_color="#5f6c2f" text_bold="Y" text_letter_spacing="0″ subtext_panel="N" text_shadow_panel="Y" text_shadow_vertical="1″ text_shadow_horizontal="0″ text_shadow_color="#5f6c2f" text_shadow_blur="0″ styling_width="40″ styling_height="30″ styling_border_color="#5f6c2f" styling_border_size="1″ styling_border_radius="6″ styling_border_opacity="100″ styling_shine="Y" styling_gradient_start_color="#bb9f30″ styling_gradient_end_color="#bb9f30″ drop_shadow_panel="Y" drop_shadow_vertical="1″ drop_shadow_horizontal="0″ drop_shadow_blur="1″ drop_shadow_spread="0″ drop_shadow_color="#5f6c2f" drop_shadow_opacity="50″ inset_shadow_panel="Y" inset_shadow_vertical="0″ inset_shadow_horizontal="0″ inset_shadow_blur="0″ inset_shadow_spread="1″ inset_shadow_color="#5f6c2f" inset_shadow_opacity="50″ align="center" href="https://ultimateyouthworker.com.au/ultimate-supervision-service/" new_window="Y"/]
Thanks for Listening!
To share your thoughts:
To help out the show:
Leave an honest review on iTunes. Your ratings and reviews really help and I read each one.
Subscribe on iTunes.
Don't forget to buy a copy of Youth Work Ethics