If you follow us on facebook or twitter you will know that some of the Ultimate Youth Worker team were at the Victorian Christian Youth Convention (VCYC) providing support and MC duties. The convention was amazing! over 300 young people and their youth leaders across the weekend all there to grow. There was amazing bands, great speakers and phenomenal fellowship. As the MC's we had the privilage of leading the convention seeing and hearing all the highs that came throughout the weekend. But as with most highs eventually there comes a low.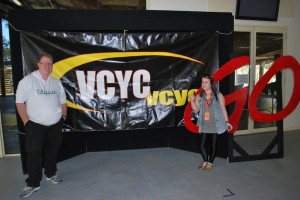 Aaron Garth and Cat Argiriou at VCYC 2013
For me it was being tired and sore. I had a full on week at work before heading to the convention, and instead of having some time to relax into it I was stuck at work under the pump to put out a report on a very sticky situation. Having no lead in time I started to feel a little more tired than usual by Saturday night. By Sunday and home time I was wrecked. Heading to work on monday I was a zombie. I was sore all over, tired beyond belief and unable to focus. Needless to say the high I had experienced over the weekend was gone by Monday afternoon.
Recently we had the pleasure of reading a great post by Ben, from Average Youth Ministry. Ben contends that
camp highs are a vital part of youth ministry
and youth work. I have to say after the weekend away I am not so sure! Ben states a number of really great reasons why a mountaintop experience like going on a camp is good, not the least of which is that with all the crap in the world it is an opportunity to get up above it all and visit the mountaintop. For our young people having a camp high is great. For us as youth workers… I'm still not sure.
Is a camp high a good thing for our young people? Most definately. But is the high experience by our young people worth the pain, lack of sleep and post conference slump for the youth workers? Can't we just get someone else to do it for us?
I am still sore and have a cracking headache. I spent a weekend away from my family. To top it all off the last two days I have been close to useless at work and home. Was it worth it? Definately. The relationship that I and many other youth workers built with their
young people was deeper
than before. The mountaintop experience for young people is also a high for us too. We remember that through the hard times there is also a great time ahead. I will get past the post conference slump. The payoff from a weekend away will last most of the year.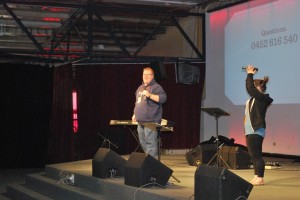 If you get a chance though, have some prep time and recovery time… Particularly once you pass the big 30.
If you haven't yet,

sign up for our newsletter

to find out all the goings on at Ultimate Youth Worker. (

Sign up here

)
You can also leave us a comment below or post a comment on

facebook

and

twitter

.