Welcome to our first ever Thursday Think Tank. Here we will discuss tips, tools, frameworks and systems that will help you deliver the best services to your young people that you possibly can.
Over the years I have managed many projects as a youth worker. You may consider the idea of project management to be foreign to the idea of youth work but it is something that we do every day. The issue is for the most part we are Unconsciously Incompetent… We don't know what we cant do. What we want to see is Ultimate Youth Worker's who are Unconsciously Competent… We know what we are doing so intrinsically that we don't realise we are doing it, Just like breathing. If you run a group, lead a team or have an event to run this framework will help you reach your goals.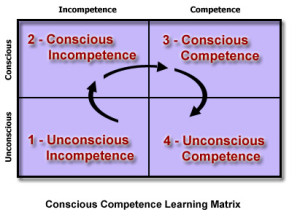 I have friends in many different sectors of employment. One area that has always astounded me is project management. I have one friend who is a project manager for a large construction firm. He holds a diploma level qualification (2 years at a tertiary institute) and is 30 years old. he has been in the role for 2 years and in the last tax year he grossed over $100,000 dollars. We caught up last week and spoke about his role. In our discussions we spoke about his way of managing projects, theories of project management and issues both positive and negative that impact of project completion. You know what 99% of what he spoke about was a complete waste of time. It blew my mind to know that my friend who earns double what I do actually could not explain how he keeps a project on track.
I shared with him how we at Ultimate Youth Worker recommend and teach people to manage projects. Its boring, simple, unsexy and it works like a charm. We won't go into it all here but rest assured over the coming years we will cover it all. All our advice however is built on the foundation of our first rule of managing a project:
WHO is responsible for WHAT and by WHEN
Pretty simple right!!! WRONG. Whether it is running a team meeting, developing a strategic plan, running a youth group or putting on a gig for local high school students this foundation can keep you on track, but only if you use it. Too many people do not have a framework for developing their project and get into trouble because they do not know what is going on. Over the years I have seen projects like a conference or a concert fail because it went over budget or people were not invited. I have seen teams flail through years of mismanagement begging for direction. I have seen organisations crash because people were not held accountable for their decisions and to their responsibilities. Our project mantra helps the project leader to steer the group to success.
Here is a simple table that you can use to make any project work.
This is a simple team meeting proforma.
Aaron spoke with FINANCE this week and has been informed that we need to reconcile our accounts.

By close of business Thursday

Nick discussed a meeting he attended with local service providers. The meeting provided many opportunities to network and develop partnerships

Network with local youth agencies

Inform manager of opportunities for partnerships

In weekly one on one meeting this week

Sarah is developing a local gig for young people in our area. She is putting together a committee of young people to help. The gig will be at the end of November.

Engage young people for committee

Promote committee to our clients
Now this is just a basic template and you can most definitely expand upon it. I have used these in many different formats including team meetings, group design, organisational restructure and even planning blog posts. However, if you use the basics you will be well on your way to delivering your objective in a timely strategic way. The best part about this framework is that it gives the project leader the ability to track issues and deal with them quickly and track your progress at a glance. But more on that next time.