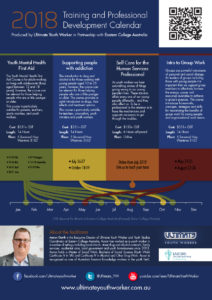 Continuing professional development is the most important step a youth worker can take to stay relevant in a sector that changes regularly. But what training and education is best for you? You want training that will keep you abreast of new data and techniques. Training that develops your skills and knowledge for the future needs of the young people you serve. Training that goes beyond the basic education found in a Certificate IV course.
We bring together some of the best externally developed training in Australia and develop our own training program to fill the gaps which are left. Over the past five years we have trained hundreds of youth and community workers, teachers and social workers as well as concerned community members in the skills of supporting young people.
Whether supporting young people in crisis, experiencing mental health issues or in groups we have a professional development course to meet your needs. All our training staff have extensive experience in the human services sector (we require a minimum of 10 years service) and all hold qualifications in training (Certificate IV TAE) and education. We also provide our training directly to organisations, so if you see something that your team could use contact us to organise a session.
Join our next training opportunity on Eventbrite
Brian Harvey,

Youth Minister

It was good to hear what you had to say about youth and mental health. It was challenging to realise that there are some deep and significant issues in this age group too. Thank you for not shying away from these.




We appreciated your willingness to answer questions as they came up too.




Sam Crotty,

RMIT Social Work Student

It means a lot to know that there's people like yourself who are willing to offer your insight and time to our personal development. A MASSIVE thanks again for presenting in such a powerful, yet sensitive and accommodating way last week. I believe all from our group found the information and experience you offered incredibly helpful.




Just wanted to once again thank you for your willingness to share with us on Tuesday night, not only did I get a lot out of it personally, but I had a number of comments and discussions following, which obviously meant that it piqued some interest for some people, which is awesome.

Tim Cameron

Leadership Development, CYC Ministries